Doggy Dan's Free Online Dog Training Course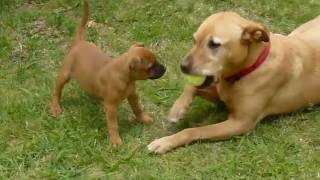 Introduction to Dog Training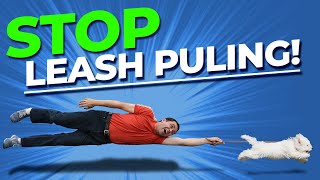 Pulling on the Leash
Puppy Training
Dog Aggression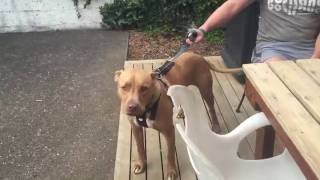 People Aggression
Introduction to Dog Training

Doggy Dan has become a personal friend of mine, and has told me this is his opportunity to share some of the knowledge he's gained over the years with as many of people as he can. So over the next few days he'll demonstrate some simple ways you can dramatically turn around some very common unwanted dog behaviors. And as he does that, you'll see that training can be both FUN and EASY for you and your dog when you use these powerful techniques...

Pulling on the Leash

Now if you've ever had trouble with your dog pulling on the leash, then you're going to really enjoy this particular video. Because what makes this whole method so effective is that it doesn't rely on forcing dogs to obey you, but by convincing them that they should be following YOU. In other words, they CHOOSE to follow you. As you're going to see on this first video... it works very quickly even on the most determined of dogs. Enjoy the video...

Puppy Training

I hope you enjoyed last video... And if your dog was pulling on the leash, then hopefully you've already seen a change.

 In this video Doggy Dan wants to show you some of the other work he does, which is helping people with their puppies. In fact he's going to show you a completely different approach to achieving the same thing with a very young pup named Jock. Now this is his first time attempting to walk to heel, so it's quite amazing what he achieves. At the end he's also left in a clip for anyone who'd like to watch his pack of dogs and little Jock interacting (it's very cute).

Dog Aggression

in this video it all starts with convincing your dog that YOU are the decision maker. When you understand the secret of how to get this part right the rest becomes easy. Let's face it, dog aggression is one of the most stressful issues for so many owners… …and yet when you convince your dog that YOU are in charge, it's easy to show your dog there's nothing to worry about.

People Aggression

Now, in this video free video... Doggy Dan is dealing with a barking dog, although to be honest, that's only one problem. He's also a bit aggressive, fearful and an overly protective dog. In fact the best way to summarise his situation is that he thinks he's in charge and he's confused as to what he should be doing. So what I want to share with you is how easy it is to help your dog if they are acting like this... …Basically once they see you as the pack leader… …and you know how to give your dog a clear, calm message about what you want… …its EASY! Of course you need to first make sure that they're looking to YOU for guidance in every situation.
Discover The Powerful Dog Training Secrets To Overcome 30+ Common Dog and Puppy Behavioral Issues With STEP-BY-STEP Instructions From One of The World's Most Skilled Dog Trainers!